Thursday, 21 August 2014 | Dymo Express Tech Support
This video shows you step by step how to create a label on your PC and then transfer it to your Dymo Rhino 6000 Labeller to be stored and printed as required.
Tuesday, 12 August 2014 | Admin
A new low cost Visitor Management System has just been released for Dymo LabelWriter Printers...
Wednesday, 6 August 2014 | Admin
Performing a self test can help you determine basic functionality, such as confirming the print head in the LabelWriter is functioning correctly, that the label sensor is working, and that the device is receiving power.
Wednesday, 30 July 2014 | Admin
Yes. The print server allows the Labelwriter printer to be shared between multiple network PC's...
Tuesday, 15 July 2014 | Admin
Please find below the manufacturers instructions for removing a jammed D1 tape from a LabelPoint or LabelManager label maker:
Thursday, 3 July 2014 | Admin
Q) How do I transfer my Dymo address book to my new PC...?
Thursday, 26 June 2014 | Admin
We often hear the argument that delivery to Northern Ireland should be the same as the rest of the UK as the post office doesn't charge any extra for delivery. But...
Tuesday, 17 June 2014 | Admin
A useful list of Dymo model numbers for reference...
Friday, 6 June 2014 | Admin
How to fix a cutter jam on a Rhino 6000.
Monday, 2 June 2014 | Admin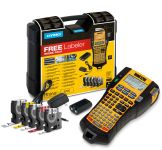 Buy a Dymo Rhino 5200 bundle now, including 5 tapes, a hard carry case, charger, and re-chargeable battery pack for less than the printer on it's own!